We offer a fully licensed patio where our guests enjoy dinner made with fresh and local produce. Enjoy the breezes off the water and share the deck with our resident hummingbirds.
ONLY by Phone RESERVATIONS. Patio ONLY.
Dinner hours: 6pm to 7:30pm starting June 16/2021 through to September 5/2021.
​
"Fabulous! Great food, best fish ever!!! Well worth the delivery, unbelievable food for such a small inn. Cheers!"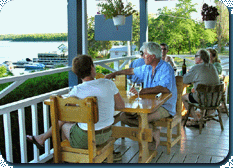 "Excellent Food! We loved the food, service, and the music! Of course the surrounding area is magnificent. Canada's best-kept secret!"